The Glenlivet hosted an intimate Burns' Night supper at The Kitchen Table in New York City. Momofuku's Milk Bar pastry chef and owner, Christina Tosi was on-hand pairing unique dishes that provided a modern take on traditional Scottish cuisine with scotch from The Glenlivet portfolio.
Saving the best for last was the incredible desserts, Coconut Cake Truffles with Tangerine & Scotch Marmalade and Compost Cookie Shortbread prepared by Chef Christina Tosi herself. These one-of-a-kind creations were paired with The Glenlivet XXV.
Click to learn about Burns' Night and our interview with Chef Christina Tosi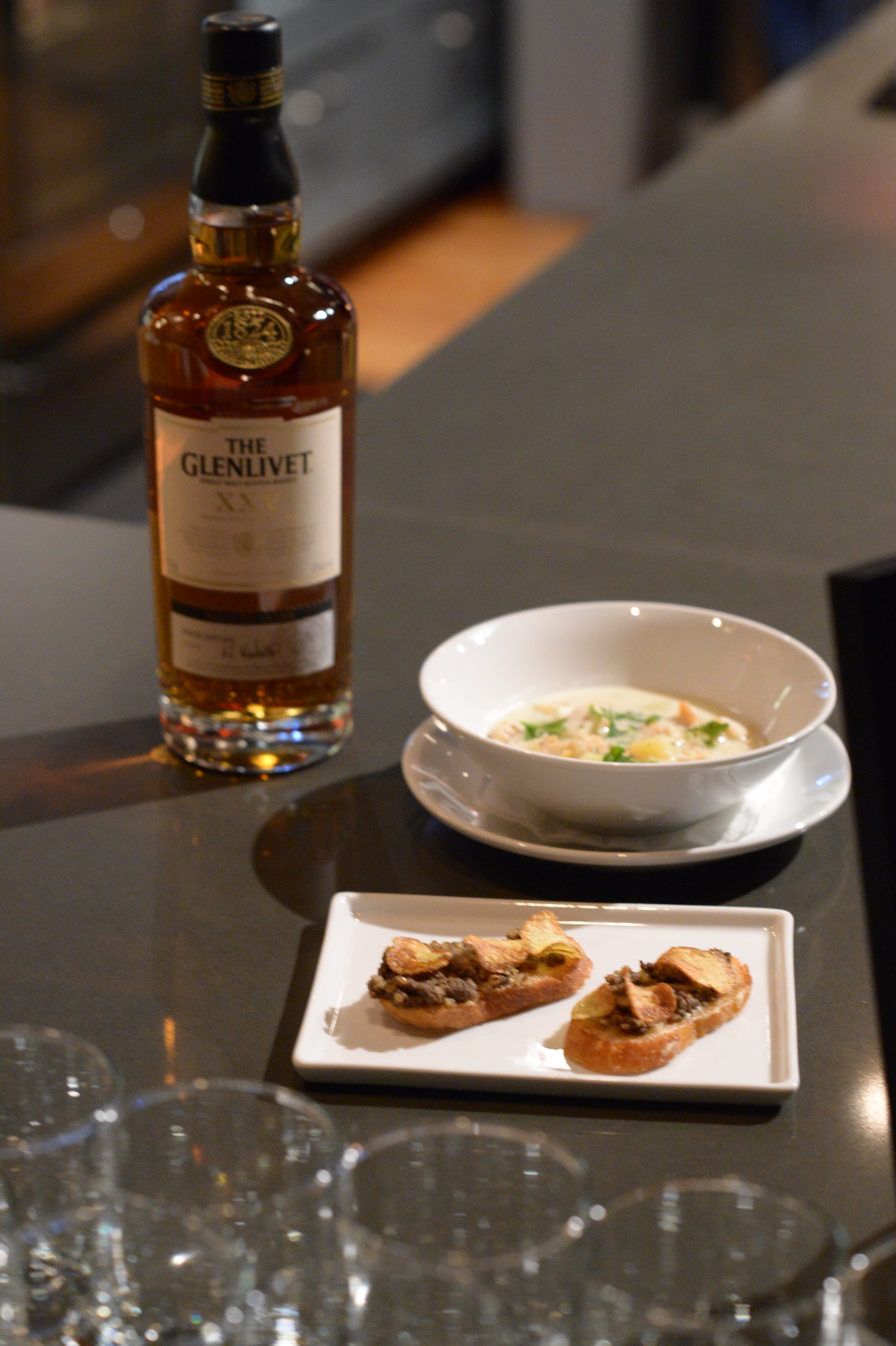 Famous Foodies, has the recipes for these delicious desserts: The Glenlivet Tangerine Marmalade and the Compost Cookie Shortbread, created by the talented Chef Christina Tosi.
The Glenlivet Tangerine Marmalade
Makes about 4 1/2 cups of marmalade.
6 Tangerines (about 700g)
3 1/2 cups Granulated Sugar
400 g. The Glenlivet 18 Year Old
Wash tangerines, cut them into quarters and put them in food processor fitted with the chopping blade, pour granulated sugar on top of the tangerine pieces.
Pulse the tangerine and sugar mixture until rind is finely chopped, and there are not pieces larger then a garbanzo bean, remove any seeds that you find with a small spoon.
Pour the mixture into a medium pot and cook it gently over medium heat, stirring occasionally using a metal spoon and skim the foam off the top of a separate bowl.
Cook tangerine mixture for about 10 minutes until very bubbly and slightly thickened, or until it reads 220 F.
Turn off the burner and as the marmalade cools, fold in The Glenlivet 18 Year Old.
Scrape marmalade into a small bowl and cover with plastic wrap, chill until ready to use.
Compost Cookie Shortbread
Makes about 24 shortbread squares.
1/2 pound Unsalted European style butter (226g)
1/2 cup Granulated Sugar (100g)
1/2 cup Light Brown Sugar (120g)
1/4 teaspoon Vanilla extract (1g)
1 Large Egg (50g)
2 1/4 All-purpose flour (360g)
1/2 teaspoon Baking Powder (2g)
1/4 teaspoon Baking soda 1.15g)
1 teaspoon Kosher salt (4g)
2/3 cup Mini chocolate chips (150g)
1/2 cup Mini butterscotch chips (100g)
1 cup Graham crackers, crumbled (85g)
1/3 cup Oats (40g)
2 1/2 teaspoons Ground coffee (85g)
2 cups Potato chips (50g)
1 cup Pretzels (50g)
Preheat oven to 350° F
Combine butter, granulated sugar, light brown sugar and vanilla extract in the bowl of a stand mixer fitted with the paddle attachment and cream on medium-high for 2-3 minutes. Scrape down the sides of the bowl, add eggs, and beat for another 7-8 minutes, until pale and fluffy.
Reduce the mixer speed to low and add in flour, baking powder, baking soda and salt. Mix until the dough comes together for no longer than one minute (do not walk away from the machine during this step, or you will risk over-mixing the dough). Scrape own the sides of the bowl with a spatula.
Using a rolling pin, roll out shortbread dough on a lightly floured surface, and roll out to about 1/4 inch thickness.
Take the chocolate chips, butterscotch chips, graham cracker crumbs, oats, coffee grounds, potato chips and pretzels and spread them evenly over the rolled out cookie dough. Using the rolling pin, gently press in the toppings to the dough.
Using your favorite cookie cutter, cut out the dough and place on a parchment lined cookie sheets.
Bake Compost Cookie Shortbread for 8-10 minutes (depending on your oven!) until the edges are golden brown, and cool on a rack.
At room temperature, the cookies will keep for 5 days, in a freezer, they will keep for 1 month.