Spice Islands is a premium spice that brand offers a wide array of flavorful spices and seasonings. It's mission is to help educate consumers about spices. That's why they are teaming up with Taste Buds Kitchen as the official spice line in a year-long program that includes thousands of cooking classes, workshops and special events nationwide from May 2018 to May 2019.
Spice Islands selected Taste Buds kitchen for this alliance to support the cooking school's missing to provide home cooks cooking classes that are fun, educational, informative, easy and provide amazing ways to cook with spices to enhance meals for the whole family. Cooking classes using Spice Islands will inspire people to turn to spices when creating recipes to make them more interesting, flavorful and healthy.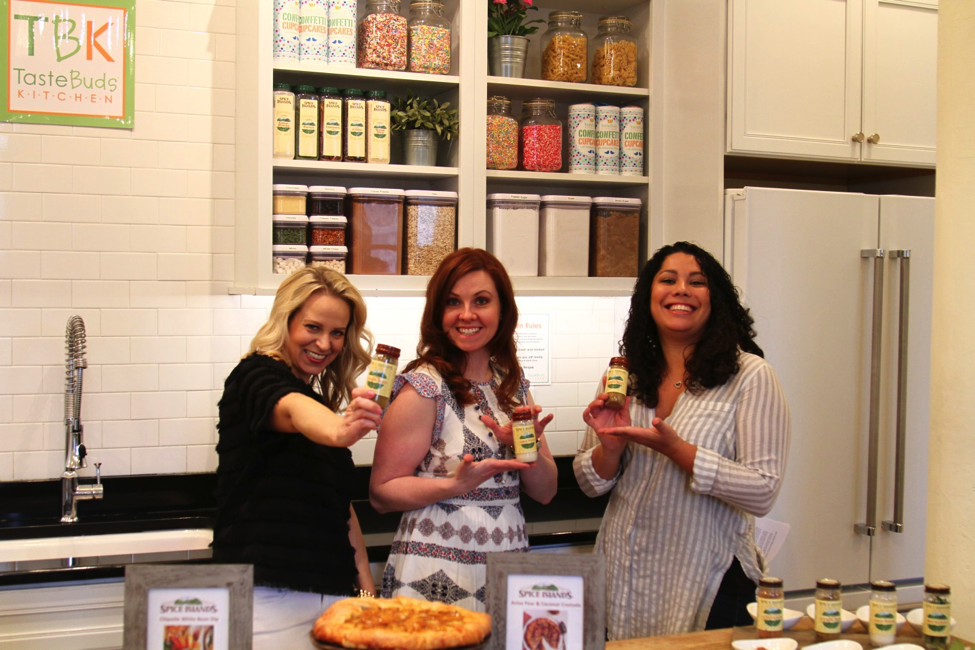 The classes will bring to life such dishes as Homemade Garam Masala using 11 Spice Islands Spices, Poached Pears featuring Spice Islands Saigon Cinnamon, Butternut Squash Empanadas featuring Spice Islands Garlic Powder and Smoked Paprika as well as hundreds of other recipes and ideas. For more information including the upcoming scheduled and to register for Taste Buds Kitchen cooking classes featuring Spice Islands premium spices, visit www.tastebudskitchen.com.
Famous Foodies has recipes from the launch party created by editor and blogger Tara Bench from TaraTeaspoon.com that are easy to make at home and absolutely delicious.
Chipotle White Bean Dip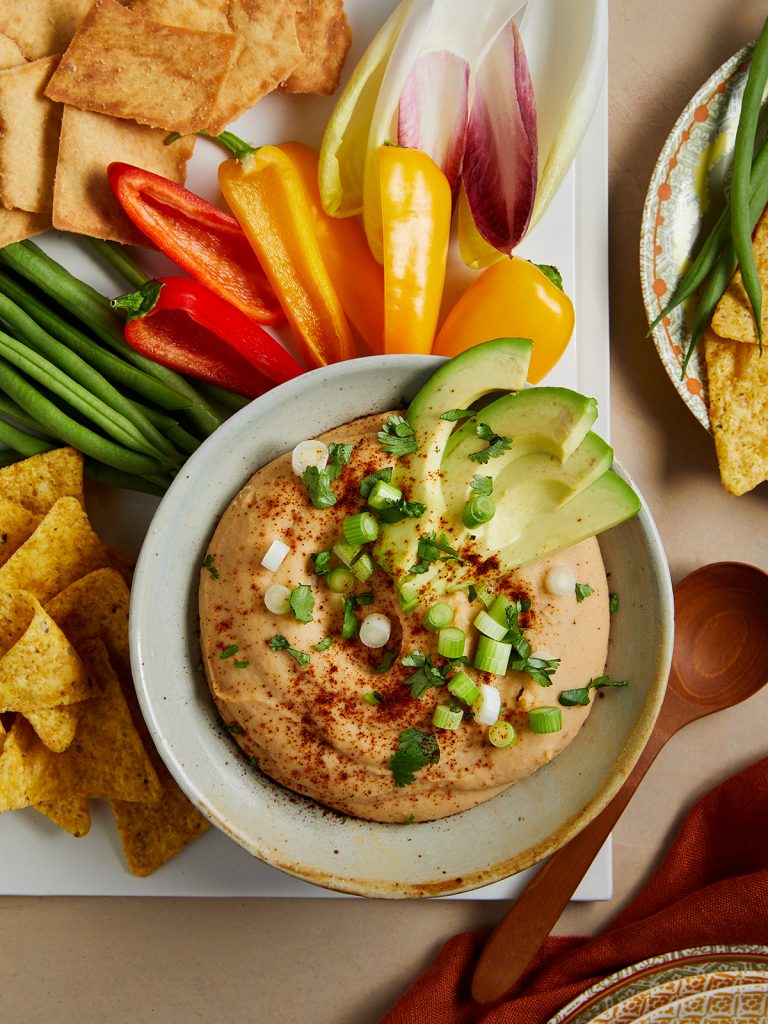 This smoky, spiced bean dip for veggies and chips is so easy to make. Top it with cilantro, jalapenos, avocado and scallions for a beautiful presentation.
Makes 2 cups
Work time: 20 min
Total time: 20 min
Ingredients:
2 15-oz cans cannellini (white kidney) beans
1 teaspoon baking soda
2 small cloves garlic, roughly chopped
2 tablespoons lime juice
¾ teaspoon Spice Islands® Fine Mediterranean Sea Salt
2 tablespoons olive oil
3/4 teaspoons Spice Islands® Ground Cumin
1/2 teaspoons Spice Islands® Ground Chipotle Chili
1/4 teaspoons Spice Islands® Ground Coriander
1/4 teaspoons Spice Islands® Oregano
2 to 4 tablespoons hot water
Cilantro, Jalapeno, Avocado and Scallions for garnish
Dippers such as chips, endive leaves, sweet peppers and other vegetables
1. Pour beans and their canned liquid in a medium saucepan. Cover with ½ inch of water and add the baking soda. Bring to a boil. Boil until beans are hot and soft, about 5 min. Drain and rinse in hot water.
2. While beans come to a boil, combine the lime juice, garlic, salt, olive oil and spices in a food processor. Pulse and then let sit until the beans are cooked.
3. Add the hot beans to the food processor and blend until smooth, scraping the bowl as needed. Drizzle in a tablespoon of hot water at a time while the machine is running and let process until desired, smooth consistency is achieved. Serve warm or at room temperature garnished with cilantro, jalapeno slices, avocados and scallions.
Glazed Moroccan-Spiced Meatballs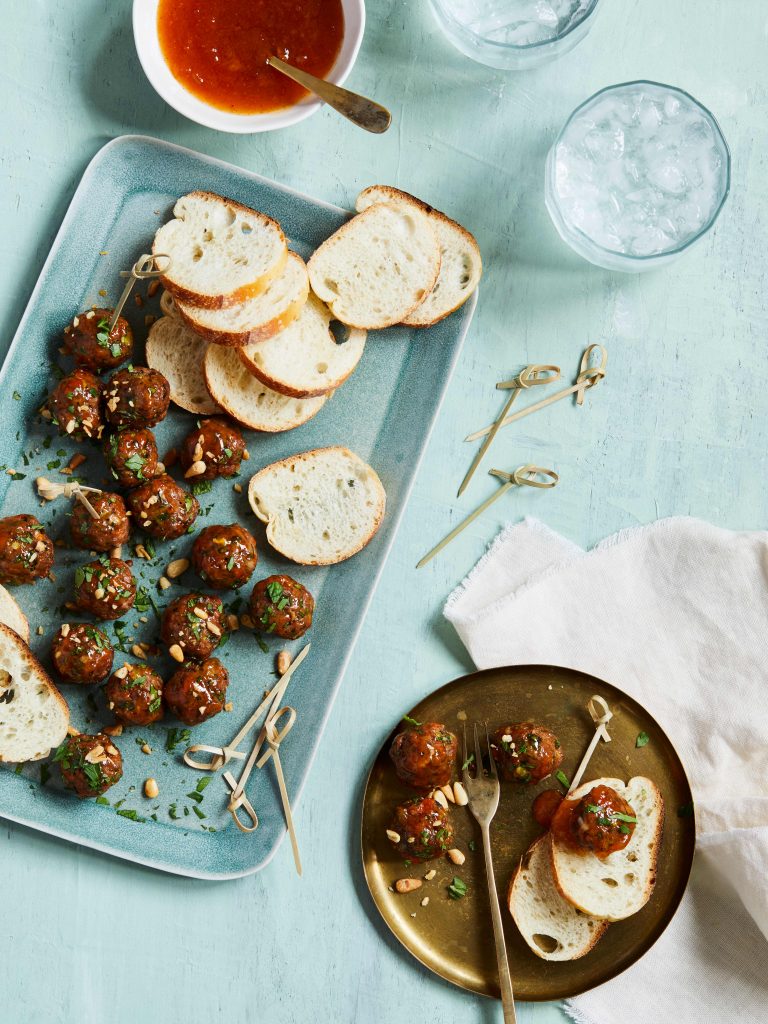 These appetizers are full of rich flavor and easy to serve at a party. You can also serve them over couscous for a delicious dinner.
Makes 43 mini meatballs
Work time: 40 minutes
Total time: 1 hour 15 minutes
Ingredients:
½ cup apricot preserves
Zest from 1 lemon
Juice of ½ a lemon
½ teaspoon Spice Islands® Cayenne Pepper
1 teaspoon Spice Islands® Course Mediterranean Sea Salt
¼ teaspoon Spice Islands® Ground Cumin
¼ teaspoon Spice Islands® Ground Saigon Cinnamon
½ teaspoon Spice Islands® Ground Ginger
½ teaspoon Spice Islands® Ground Coriander
¼ teaspoon Spice Islands® Ground Allspice
1 lb ground lamb
3 scallions, green and white parts chopped
2 garlic cloves, minced
1 tablespoon tomato paste
⅓ cup flat-leaf parsley leaves, chopped
2 tablespoons mint leaves, chopped
⅓ cup finely diced, dried apricots
Toasted pine nuts
1. Heat oven to 375ºF. Stir together the apricot preserves, lemon zest and juice, salt and cayenne pepper. Set aside.
2. In a small bowl combine the salt, cumin, Saigon cinnamon, ginger, coriander, and allspice. In a large bowl mix together the ground lamb, scallions, garlic, tomato paste, parsley, mint, dried apricots and spice mixture.
3. Roll mixture into 1-inch balls and place on a parchment-lined baking sheet. Bake until cooked through, about 20 minutes. Remove from oven and brush generously with glaze. Serve with extra glaze and topped with extra mint and chopped pine nuts. Can be served room temperature as well.
Anise, Pear and Almond Crostada
Sweet and mellow pears get baked on top of an anise and almond filling for a rustic, but utterly delicious dessert. You can swap homemade for your favorite store-bought pie crust as well.
Serves 6
Work time: 45 minutes
Total time: 2 hour 30 minutes
Crostada Crust:
1¼ cups all-purpose flour
1 stick butter, cut into ½ inch cubes and frozen
½ teaspoon Spice Islands® Fine Mediterranean Sea Salt
¼ cup ice water
1 large egg, beaten
3 Fiorelle or small pears, sliced into thin wedges
2 tablespoons sugar
1 tablespoon lemon juice
Anise Almond Filling:
1 cup blanched slivered almonds
¾ teaspoon Spice Islands® Anise Seeds
⅓ cup sugar
1 large egg
1 teaspoon Spice Islands® Vanilla Extract
¼ teaspoon Spice Islands® Fine Mediterranean Sea Salt
2 tablespoons butter, room temperature
2 tablespoons apricot jam, heated
1. For the crust add flour, butter and salt to a food processor. Pulse just until butter is the size of large peas. Add 3 tablespoons of ice water and pulse several times. Pinch dough to see if it is holding together, if not add more water a couple of teaspoons at a time pulsing once or twice after each addition, until the dough just holds together. Form dough into a disk, wrap in plastic wrap and chill 30 minutes.
2. Heat oven to 400°F. Combine almonds, anise seeds, sugar, egg, vanilla, and salt in a food processor. Blend until a paste forms. Add the butter and blend again. Set aside. Toss the sliced pears with the sugar and lemon juice. Set aside
3. On a sheet of floured parchment paper roll out the dough to a 13-inch circle; transfer on parchment to a rimless cookie sheet.
4. Spread the almond paste onto the circle leaving a 2-inch border. Scatter or arrange the pears on top, covering all of the almond paste. Fold the dough up and over the pears, overlapping the dough as needed. Brush with egg wash and sprinkle crust generously with extra sugar.
5. Bake until pears are tender, 40 to 45 minutes. If crust starts to get too brown, lightly cover with foil. Remove tart from oven and brush pears with heated apricot jam. Serve with cream or ice cream if desired.