We know many celebrities love their food but some take their passion to the next level by hosting their own cooking shows.
Taking a break from some of the harder news stories she covers, Nancy Grace can be found cooking up nutritious meals on her new digital series, "Cooking with Nancy Grace," that airs weekends on HLN.
The former prosecutor shows her motherly warmth as the show's content gears toward working parents with children. On each episode, Grace cooks, straight out of her own kitchen, foods that she thinks children will eat.
Growing up, Grace says her mother always cooked big meals that brought people to the table. She wanted her 8-year-old twins, John David and Lucy Elizabeth, to have what she had as a child.
She already started a cookbook for working parents seeking nutritious and delicious meals.
Actress and star of ABC's "The Middle", Patricia Heaton is another celebrity with a new cooking show. Heaton is not only a talented actress but also knows how to throw the best at-home parties.
Joining Food Network's daytime line-up, Heaton shares her favorite party schemes and DIY crowd-pleasing eats and drinks on her new six-episode series, "Patricia Heaton Parties."
She says her move to food television was prompted by her adventurous spirit.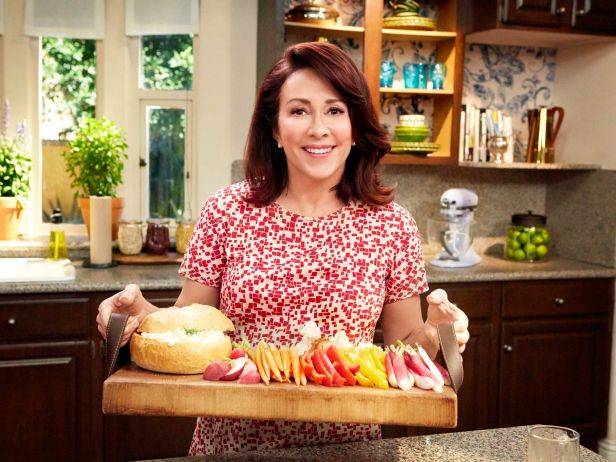 "I am always up for another adventure, and this show forces me to use new parts of my brain. Cooking out loud is hard!" Heaton told TV Insider. "On 'The Middle,' they hand me a script. I say the lines. If I do them wrong, they correct me. Then I go home. Acting is so much easier!"
Unlike Grace, Heaton's mother hardly made home-cooked meals. She moved to New York after graduating college and learned about food from her non-acting jobs. As a struggling actor, she worked as a hostess in restaurants and room service waitress in a fancy hotel for a few years. She also learned entertainment and décor from a party-planning agency.
The premiere episode, which aired on Oct. 24, 2015 featured a Heaton-style Halloween party. The upcoming episodes consist of her surprise anniversary party, a backyard meal with her sons, and a ladies' night.
Finally, actress Debi Mazar and her Italian celebrity chef of a husband, Gabrielle Corcos, host "Extra Virgin," which began airing in 2011, and is now in its fifth season on Cooking Channel. Each episode shares a glimpse of the couple's life with their two children, family and friends, punctuated with amazing delicious foods and recipes.
They started out with a cooking blog, "Under the Tuscan Gun," when Mazar was pregnant. The couple says one day, they were cooking and decided to film themselves and upload to YouTube. Having fun with their new idea, they made it a weekly activity until Cooking Channel found them.
"The food is like the skeleton that holds all the stories that we tell. And the rest is all our love and comedy and family and travel," Corcos told Boston Globe.